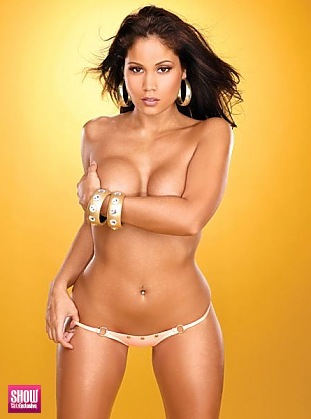 SGE Content for
Nana in
ISSUE #11
Photos:
1
Galleries and growing
Photos:
21
Photos and growing
Photos:
14.7
MB of Photos
Videos:
0
Videos
Videos:
0
mins of footage
Videos:
0
MB of video
View
ISSUE #11
issue information and galleries >>
AGE:
N/A |
FROM:
San Jose, CA |
FEATURED IN:
ISSUE #11
"Well, Hello! My name is Natasha a.k.a NANA!!! Id like to first off, give thanks to SHOW Magazine...Sean, you are the MAN! You too Nick! They keep it real and very professional! I would also like to acknowledge Aaron Mellion and thank him as well for introducing myself to Sean and actually trusted that my unique look was something that Sean, as well as the rest of the men out there, are interested in. Im honored to be given compliments like this because this magazine is about the Art of Sexy and I am one of those curvy women with the look that is ,for some reason, people cant find the correct ethnicity to, so most of the time Im making them guess what I am before I tell them because no one has ever gotten it right. I get Hispanic all the time especially Puerto Rican, Mexican or somewhere from Central America. I get Middle Eastern too or even a little mix of black. I am full Samoan! A very small island in the Pacific just below the equator also very similar to Hawaiians (just to make it easy for everyone). Crazy thing about it is that people dont believe me because they say that Im too "tiny" to be a Samoan. Samoans to them are "huge, big boned people and very intimidating ". I laugh and take it as a compliment because it is true and we are just built that way and its in our blood and we are proud of it, well for me Im not big boned (I dont know why so stop asking!) but Im proud to be an American Samoan with high morals and virtues taught at a very young age, as well as to respect everyone around me and to love your enemies. I love to eat everything and anything and people ask me where do the pounds go? I then turn around and show them where it really goes! haha! even my sense of humor is enough to make a person fall over heels for me. talk about concieted huh!! No, its just confidence really! I have a huge family, sooo many close friends, and even got my very own fans (hint: Myspace Rules!) so Id like to give them a shout out...they are my supporters with everything I do and I love you all so very much! the rest can kiss my @$$ if they think that Im degrading myself by showing too much skin...BUT hey! ill be the first to say that Im proud of what my mama gave me cuz it is SHOW mag and Imma SHOW it off!!! HA!!!! Sean, get ready because this issue will be sold out within 24hrs. ;) "
PHOTOS BY:
Nick Saglimbeni, www.slickforce.com
STYLINY BY Tiffany Rae
KEY HAIR STYLIST:
Tony Jones
KEY MAKEUP ARTIST:
Gaby Ramos
BOOKING INFO:
SHOW Model Management, www.showgirlzexclusive.com
PRODUCTION FACILITIES PROVIDED BY:
Slickforce Studio


2
Total Galleries with
36
total photos of
Nana
from
ISSUE #11
and other Issues