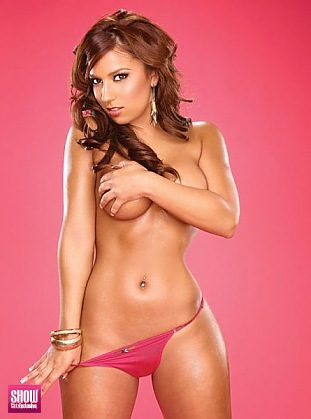 SGE Content for
Jesikah Maximus in
ISSUE #11
Photos:
1
Galleries and growing
Photos:
20
Photos and growing
Photos:
14
MB of Photos
Videos:
4
Videos
Videos:
16
mins of footage
Videos:
168
MB of video
View
ISSUE #11
issue information and galleries >>
AGE:
36 |
FROM:
Tustin, CA |
FEATURED IN:
ISSUE #11
"Stay tuned because the best is yet to come!"
My name is Jesikah Maximus, Im 23 years old from Tustin, CA. And Im having the time of my life! This past year has been a cross road to destiny for me! Ive often told my story of working as a makeup artist at a Mac counter in a Mall in Orange County less than a year ago. I share this story because I want to inspire others to take the first step to their dreams. This year feels like the equivalent of being blasted out of a rocket launcher! I have opened up my career with a Bang! I am blessed to be this years leading cover girl! After being featured in various magazines including KING, I graced my first cover which was Show magazine thanks to Sean Cummings. You may have also seen me on the cover of Blackmens magazines special ten year eye candy anniversary issue which was followed up by the distinction of being featured in an SSX magazine special tribute issue from cover to cover. I am told that no model has ever been given the SSX tribute issue this early in her career. My first major trip of my career was to Puerto Rico to shoot my 2009 calendar with celebrity photographer Nick Saglimbeni who has literally watched me grow up through the lens of his camera. Thanks to my exclusive relationship with Urbmob.com and my manager St. Gian at NeXlyfe Entertainment, I have been featured in television commercials promoting my cell phone wallpaper pics as well as traveled the country as a cover girl hosting events.
PHOTOS BY:
Nick Saglimbeni, www.slickforce.com
STYLINY BY Tiffany Rae
KEY HAIR STYLIST:
Tony Jones
KEY MAKEUP ARTIST:
Gaby Ramos
BOOKING INFO:
St. Gian for NeXlyfe Entertainment, jesikahmaximus@yahoo.com
PRODUCTION FACILITIES PROVIDED BY:
Slickforce Studio


37
Total Galleries with
508
total photos of
Jesikah Maximus
from
ISSUE #11
and other Issues