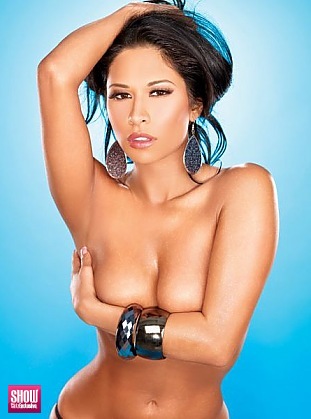 SGE Content for
Destiny in
ISSUE #11
Photos:
1
Galleries and growing
Photos:
18
Photos and growing
Photos:
12.6
MB of Photos
Videos:
0
Videos
Videos:
0
mins of footage
Videos:
0
MB of video
View
ISSUE #11
issue information and galleries >>
AGE:
N/A |
FROM:
Los Angeles, CA |
FEATURED IN:
ISSUE #11
"I am grateful to be able to do what I love and again thanks for all of your support"
Hello everyone and first of all thank you for taking the time to read...;)
My name is Destiny Monique and if I look familiar its probably because I was featured in the 2nd Black Lingerie issue of Show... Since that issue I have been working a lot and have accomplished so much more, but before I get into what I have been up to I would like to take a moment to thank all of thefFans and people from all over that emailed me on my website and left comments on my page on myspace. Thank you for all the love!! I would especially like to thank all the men and women serving us in the military and thank so much for hitting me up and supporting me in the progress of my career... It means a lot! (Prior service Us Marine here)...
So what have I been up to? I am a working Swimsuit and lingerie model/TV Host and Actress... I have been in over 10 magazine including a feature and cover for People Magazine Australia, Artist magazine, FHM, Maxim Bud Light billboard campaign, Oye Magazine... etc... Also I have been working a lot with Spike TV, Most recently hosting at The guys choice Awards and starting Sept 7th My episodes on the Show Manswers late night on Spike start airing. Be sure and check me out. The show is great!!! Also if you would like to see me live please visit www.Livevideo.com/liveshow/Destinymonique... You can ask me anything you want and get to know the real me past all the Pictures... I am grateful to be able to do what I love and again thanks for all of your support... Please visit www.Destinymonique.net to follow up and if you have a Myspace..www.Myspace.com/Destinyisthashit... Add me... I love Friends! XOXO!!! ;)
PHOTOS BY:
Nick Saglimbeni, www.slickforce.com
STYLINY BY Tiffany Rae
KEY HAIR STYLIST:
Tony Jones
KEY MAKEUP ARTIST:
Gaby Ramos
BOOKING INFO:
Sight Beyond Sight Model Management, Booking@sightbeyondsight.net
PRODUCTION FACILITIES PROVIDED BY:
Slickforce Studio


2
Total Galleries with
25
total photos of
Destiny
from
ISSUE #11
and other Issues