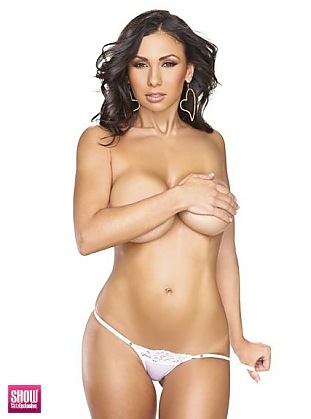 SGE Content for
Valeria in
BLACK LINGERIE #3
Photos:
4
Galleries and growing
Photos:
134
Photos and growing
Photos:
93.8
MB of Photos
Videos:
0
Videos
Videos:
0
mins of footage
Videos:
0
MB of video
View
BLACK LINGERIE #3
issue information and galleries >>
A lot of people think that I am Latin but Im actually Eastern European. I was born in Bulgaria and moved to the USA when I was 9. I have many different sides to me so it may be hard for people to get along with me at times. I can be extremely nice or the total opposite, it all depends on the mood Im in at the time. I can get irritated very easily especially by men. Intelligence is one of my biggest turn ons but over confidence definitely is not. Right now Im single and I like to have fun and go crazy at times with my friends but I would rather stay home and watch movies or just relax.
Most people dont know this about me but I have a creative side. My partner and I have a web design company. I am the graphic design artist so what I do is make all the graphics and she does all the coding. Together we are Vixen Web Design. I also do the modeling thing, obviously and that is something I do part time. Ive been modeling for about a year and a half now and I would love to have more time for it but Ive been really busy with other things. I enjoy the traveling that comes along with it but sometimes it gets to be a little too much and I cant wait to go home. I started out doing some work behind the scenes and that is really what I look forward to doing in the future. Right now I just want to be young, have fun and live life. There is a lot more, that anyone who is interested can learn about me by visiting my web site www.lovevaleria.com.
Photos by Nick Saglimbeni, www.slickforce.com
Styling by:
Megan Halpin for Skinnyknickers.com Key Hair Stylist: Tony Jones
Key Makeup Artist: Gaby Ramos
Booking info
: www.lovevaleria.com
Production Facilities Provided by Slickforce Studio

5
Total Galleries with
148
total photos of
Valeria
from
BLACK LINGERIE #3
and other Issues