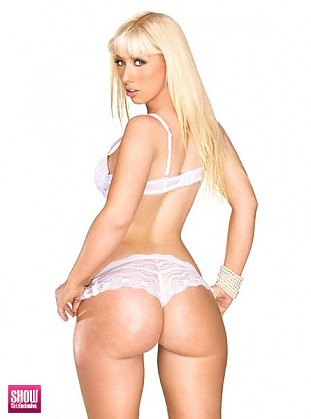 SGE Content for
Jenna Shea in
BLACK LINGERIE #3
Photos:
5
Galleries and growing
Photos:
135
Photos and growing
Photos:
94.5
MB of Photos
Videos:
0
Videos
Videos:
0
mins of footage
Videos:
0
MB of video
View
BLACK LINGERIE #3
issue information and galleries >>
I am Jenna Shea and it was fate that this would be my name. When I was born my parents flipped a coin because they couldnt decide what my name should be. It was going to be Jenna Shea or Raven. Tails! My dad won. I was born and raised in Inglewood California. My ethnic background is German, Irish, and polish. I have a 23 inch waist and have always been told I have a unique figure. I have a huge bubbly personality, and I love to laugh. Im always upbeat and full of energy. Im very friendly and could strike up a conversation with anyone. My ultimate goal is to be in playboy. Modeling is a passion I have, and I feel I have something to offer the world and something to SHOW.
Modeling is something Im going full force for. There are so many things I wanna do in this industry Ive just started. SHOW is my first magazine. Its full of beautiful smart women and what better place to start? Its been a pleasure working with Sean and I am grateful for this opportunity. I am a SHOW girl and so proud of it. The future with modeling looks bright for me.
Photos by Nick Saglimbeni, www.slickforce.com
Styling by:
Megan Halpin for Skinnyknickers.com Key Hair Stylist: Tony Jones
Key Makeup Artist: Gaby Ramos
Booking info
: SHOW Model Management, www.show-mag.com
Production Facilities Provided by Slickforce Studio


20
Total Galleries with
435
total photos of
Jenna Shea
from
BLACK LINGERIE #3
and other Issues