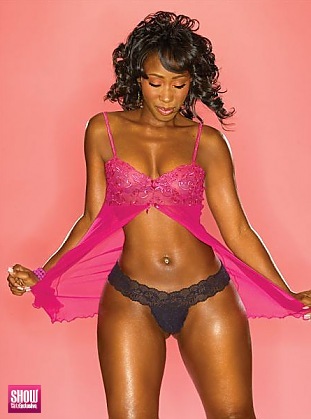 SGE Content for
Bria in
ISSUE #2
Photos:
2
Galleries and growing
Photos:
6
Photos and growing
Photos:
4.2
MB of Photos
Videos:
1
Videos
Videos:
4
mins of footage
Videos:
42
MB of video
View
ISSUE #2
issue information and galleries >>
AGE:
N/A |
FROM:
N/A |
FEATURED IN:
ISSUE #2
The SHOW Biz tag goes to the model whos most on her grind. It goes to the hustler of the group. It also signifies someone that I feel has a big future in show business. Bria is definitely very ambitious, having appeared in several music videos but not content to stop there. We met at a casting nearly two years ago and she was already talking about what she wanted her cover to look like. She was not satisfied to just be considered for the magazine she already had designs on the cover. That type of self determination and confidence is always welcomed by me. Other than being hot and in demand, one way for models to get any job is by being confident and persistent. I always tell models to continue to follow up with me and not give up. Just because you dont make it in initially it doesnt mean you dont have a chance.
Photos by Nick Saglimbeni
Story by:
Sean Cummings
Styling by:
Brandi Vasquez
Hair by:
Tony Jones
Makeup by:
Therese Willis


5
Total Galleries with
40
total photos of
Bria
from
ISSUE #2
and other Issues