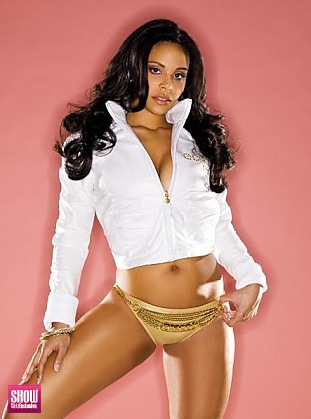 SGE Content for
Ebony in
ISSUE #1 PREMIER
Photos:
1
Galleries and growing
Photos:
5
Photos and growing
Photos:
3.5
MB of Photos
Videos:
0
Videos
Videos:
0
mins of footage
Videos:
0
MB of video
View
ISSUE #1 PREMIER
issue information and galleries >>
I chose to lead of the premier issue with Ebony because shes just so beautiful. It was important to get the readers attention right away and starting with this young beauty from Rhode Island does the trick, we believe. Ive known Ebony for a little over a year now and Ive anticipated getting her in the photo studio ever since we first met. If Im not mistaking, she sent me her comp card and then came down to NYC to see me. Ebony, her sister Delores and manager Raquel connected with me at Fashion Forty in Times Square, one of my favorite spots to meet models on a Friday night. The party there, which is promoted by my good friend Jay Wright, is a favorite hang out spot for modeling industry types.
Photos by Mark Mann
Story by:
Sean Cummings
Styling by:
Melissa Spann
and Aishia Offray
Hair by:
Gocha Hawkins
Makeup by:
Lazarus for Ken Barboza


1
Total Galleries with
5
total photos of
Ebony
from
ISSUE #1 PREMIER
and other Issues