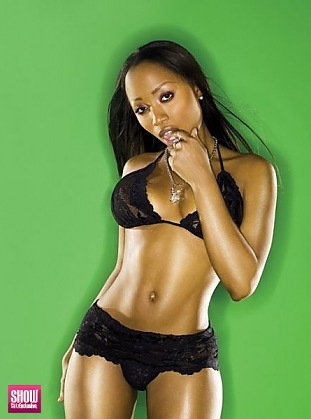 SGE Content for
Aishia in
ISSUE #1 PREMIER
Photos:
1
Galleries and growing
Photos:
5
Photos and growing
Photos:
3.5
MB of Photos
Videos:
0
Videos
Videos:
0
mins of footage
Videos:
0
MB of video
View
ISSUE #1 PREMIER
issue information and galleries >>
Aishia used to all ways tell me that I wouldnt look at her because she was too skinny. She was right. I have to give all the props to photographer Mark Mann for this one. It was his idea to make Aishia one of our first models. I totally slept. Who knew she had a little donkey. Translation, I had no Idea she had that ass. You know the expression: "Skinny girls need love too". The Bella Honey lingerie was supposed to show up on the set the previous day. When it arrived on Sunday and fit Aishia perfectly it was like it was meant to be. I have always wanted to do a sexy shoot with the "industry chicks" that operate behind the scenes. Aishia as you might have noticed was also the co-stylist for the New York shoots. Beauty and talent is everywhere all you have to do is look or just let us SHOW you.
Photos by Mark Mann
Story by:
Sean Cummings
Styling by:
Aishia Offray and Melissa Spann
Hair by:
Gocha Hawkins
Makeup by:
Lazarus for Ken Barboza


1
Total Galleries with
5
total photos of
Aishia
from
ISSUE #1 PREMIER
and other Issues