Girls:
1163
| Photos:
85620
| Issues:
52
| Galleries:
2056
| Videos:
933
Show Girlz Exclusive
>>
Home Page
>>
ShowDVD's
>> Viewing Volume 8 - Black Lingerie 6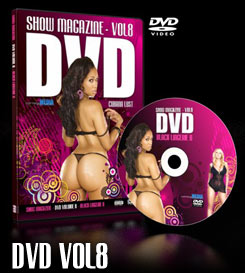 DVD Vol. 8 follows the behind the scenes sexploits of today's hottest strippers and porn stars as featured in Black Lingerie 6. The Stripper/Porn issue is only the beginning as the accompanying DVD gives it to you down and dirty, exposing every delicious naked inch superstars such as Rita G., Aurora Jolie, Mariah XXX and Sapphire Channel.

This video is nearly X-rated and packed with girl on girl action. Certainly, our most mouth watering DVD to date, this one features the most nudity, the sexiest scenes and hot new comers Cubana Lust and Veatrice. Be sure to get two as one of your copies is sure to go missing the minute you let it out of your site! Enjoy!
<< BACK TO ALL DVDS | PURCHASE THIS DVD >>



You need to upgrade your Flash Player