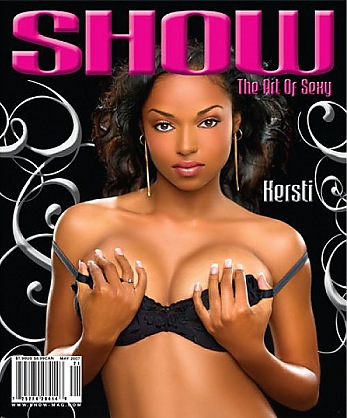 ISSUE #6 - May 2007 - Cover: Kersti

865 Photos / 32 Galleries
/ now online.
This issue is best known for two things. One, it features the shoot that the models in Issue #5 were preparing for. And two, this is the issue that led to our spin off title SHOW | Black Lingerie.
All of he models from issue #5 are repeated in this issue, however in color and wearing sexy black lingerie. If we may say so, this issue should have been combined with the previous issue to form one issue, which is what we did with the following issue.
Our SHOW Me More page took on a new significance because of the introduction of Dollicia, other than Temeca, our most popular SHOW Girl. She went onto to rock the cover of the next issue as well as the whole industry.
Photos:
32
Galleries Online
Photos:
865
Photos Online
Photos:
605.5
MB of Photos Online
Issue: ISSUE #6
Release Date
: May 2007
Cover Girl
: KERSTI