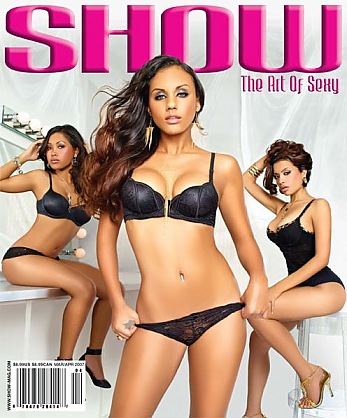 ISSUE #5 - March/April 2007 - Cover: Soca, Nicole, Blanca

106 Photos / 10 Galleries
/ now online.
Call this issue the evolution of sexy, part 1 of 2. We are always certainly looking ahead to see how we can continue to elevate The Art of Sexy. To that extent, we bring you this, our most ambitious effort to date. The whole crew came to LA LA land to put this one down. Creative Director Emily Siy and Managing Editor Nicole Miller made the trip from NYC and Atlanta, respectively, to make their contribution on the production side as well as creatively and managerially. So I thank them as always for their dedication and aptitude. Director of Photography Nick Saglimbeni took the game to a whole new level with his unique eye for subtle yet provocative portraits of the beautiful women we have the pleasure of working with in each issue. And as usual, Pablo and Brandon had my back the whole time.
This is part 1 of a special collection of images that we feel are the best examples of how SHOW magazine is impacting the game and giving models the opportunity to be simultaneously sexy and beautiful as well as being depicted in an artful manor. I was able to work very closely with the ladies and their agents on this issue, especially Chimene who provided over half of the talent for this shoot. It always helps when you can collaborate with the models in terms of their styling and the overall creative process and execution for such a strong concept. It is our goal and desire to continue to partner with the models we shoot to strengthen and improve the way we present them in each issue.
These next four issues represent the same sort of trail blazing and creative ingenuity that SHOW brought to you with our first four editions. We hope you enjoy the series and the way we take The Art of Sexy to the next level. Keep your eyes open for the next addition to the SHOW family coming in April as we bring more fire and hotness to newsstands everywhere. And dont forget to cop the SHOW DVD Vol. 1. As I close out this letter, I want to congratulate one of Brooklyns finest, my man D.T., on his recent promotion. Long live the KING.
Let the SHOW begin
Sean Cummings
Publisher and CEO
Perhaps our most critically acclaimed issue, certainly our most controversial, Issue #5 will always be one of our female readers favorites. This issue was themed after the backstage campaign done by Victorias Secret.
The whole idea was to capture, in black and white veritae, the models as they prepared for a photo shoot. With this, we offered a true behind the scenes perspective of the models getting styled, dressed and relaxing and socializing on the set. The black and white along with the entire concept didnt sit well with our original readers who were used to a more colorful and simple execution of the Art of Sexy.
We titled this issue the "Evolution of Sexy" but quickly realized that our readers liked their sexy just the way we had perfected it in our first four issues.
Photos:
10
Galleries Online
Photos:
106
Photos Online
Photos:
74.2
MB of Photos Online
Issue: ISSUE #5
Release Date
: March/April 2007
Cover Girl
: SOCA, NICOLE, BLANCA